Regular price
Sale price
$159.00
Unit price
per
Sale
Sold out
"Dramatically improves the appearance of skin without spa visits! It's MAGIC!" -Olivia Williams, Beauty Insider
This at-home facial fights the most common skin concerns. Our BotanicalAcid® removes impurities from deep within and rejuvenates the skin. The end result is skin that looks smoother, firmer, lifted, with an even complexion. Enjoy professional-level results without visiting the spa.
"It's quickly becoming the most popular solution for women who want better-looking skin. Thousands of women are loving it. I call it a spa-in-a-box." - Mandy, Esthetician
Included: 4 facials, 1 recovery serum, 1 applicator brush
SOLUTION FOR

- All Skin Types. Ages 30+
- Wrinkles & Fine Lines
- Dark Spots
- Clarifying & Detoxifying
- Accelerated Skin Turnover
- Pore-Tightening
- Skin Tone
- Firming & Lifting
- Youthful Glow & Appearance
DIRECTIONS

DIRECTIONS:
1. Apply facial peel to your face, neck, and décolletage with the brush. Use sparingly under your eyes. Avoid direct contact with eyes, eyelids, and lips.

2. Rinse thoroughly after 2-3 minutes*

3. Apply recovery serum.

*ALWAYS START SLOW! Beginners or those with sensitive skin should leave the peel on for 2 to 3 minutes.

Your kit contains 4 facials that last up to 60 days. Repeat every other week or as needed. Gentle enough for all skin types.
INGREDIENTS

EarthsCure is committed to only using ingredients that directly benefit the appearance of skin or support the integrity and effectiveness of our formula.

Non-toxic, no sulfates, no parabens, no phthalates, hypoallergenic, gluten-free, cruelty-free, vegetarian. No fragrances or perfumes.

Contains:
- 4 Facials
- 1 Recovery Serum
- 1 Applicator

4 FACIALS:
Aqua (Deionized Water), Jojoba Esters, Cetyl Alcohol, Glycerin (Kosher, Vegetable), Glyceryl Stearate, Isopropyl Palmitate, Lactic Acid, Squalane (From Olive Oil), Kaolin (Kaolin Clay), Olea Europaea Seed Powder (Olive Exfoliant), Aloe Barbadensis Leaf Juice (Organic Aloe), Cetearyl Alcohol (Cetyl Alcohol), Stearyl Alcohol, Malic Acid, Rosa Canina Fruit Oil (Organic Rosehip Seed), Dimethyl Sulfone (Msm), Bentonite, Citrus Limon Fruit Oil (Lemon Essential Oil), Cetearyl Glucoside, Sodium Hydroxide (Caustic Soda), Xanthan Gum, Anthemis Nobilis Flower Oil (Chamomile Essential Oil), Vaccinium Macrocarpon Seed Powder (Cranberry Fibers), Potassium Sorbate (Preservative), Sodium Benzoate (Preservative), Boswellia Serrata Oil (Frankincense Essential Oil), Camellia Sinensis Leaf Extract (Organic Green Tea), Tetrasodium Glutamate Diacetate, Amyris Balsamifera Bark Oil (Sandalwood), Copaifera Species Resin Oils (Balsam), Dipterocarpus Turbinatus Balsam Oil (Balsam), Santalum Album Oil (Indian Sandalwood), Santalum Spicata Wood Oil (Sandalwood), Cymbopogon Schoenanthus Oil (Lemongrass Essential Oil), Pelargonium Graveolens Leaf Oil (Geranium Essential Oil), Monarda Fistulosa (Bee Balm), Rosa Damascena Flower Extract (Rose), Rosa Damascena Flower Wax (Rose), Beeswax, Glycolic Acid, Commiphora Myrrha Oil (Myrrh), Geranium Maculatum Extract (Wild Geranium), Vinca Major Extract (Periwinkle), Schisandra Chinensis Fruit Extract (Schisandra), Acetyl Hexapeptide-1, Ascorbic Acid, Butylene Glycol, Citrus Aurantium Dulcis Fruit Extract (Sweet Orange), Citrus Limon Peel Extract (Lemon), Dipeptide Diaminobutyroyl Benzylamide Diacetate, Lecithin, Lonicera Caprifolium Flower Extract (Honeysuckle), Lonicera Japonica Flower Extract (Japanese Honeysuckle), Lysolecithin, Phytic Acid, Pullulan, Pyrus Malus Fruit Extract (Apple), Saccharum Officinarum Extract (Sugar Cane), Sclerotium Gum, Tocopheryl Acetate (Vitamin E), Ubiquinone (Coq10)

1 RECOVERY SERUM:
Deionized Water, Vitamin C (Sodium Ascorbyl Phosphate), Glycerin (Kosher, Vegetable), Dimethyl Sulfone (Msm), Organic Aloe, Acrylates/C10-30 Alkyl Acrylate Crosspolymer, Tocopheryl Acetate (Vitamin E), Organic Jojoba, Hydrolyzed Caesalpinia Spinosa Gum (Tara)*, Caesalpinia Spinosa Gum (Tara)*, Organic Gotu Kola, Equisetum Arvense Extract (Horsetail), Wild Geranium, Organic Dandelion, Alcohol, Phenoxyethanol, Ethylhexylglycerin (Vegetable Derived)
Share
View full details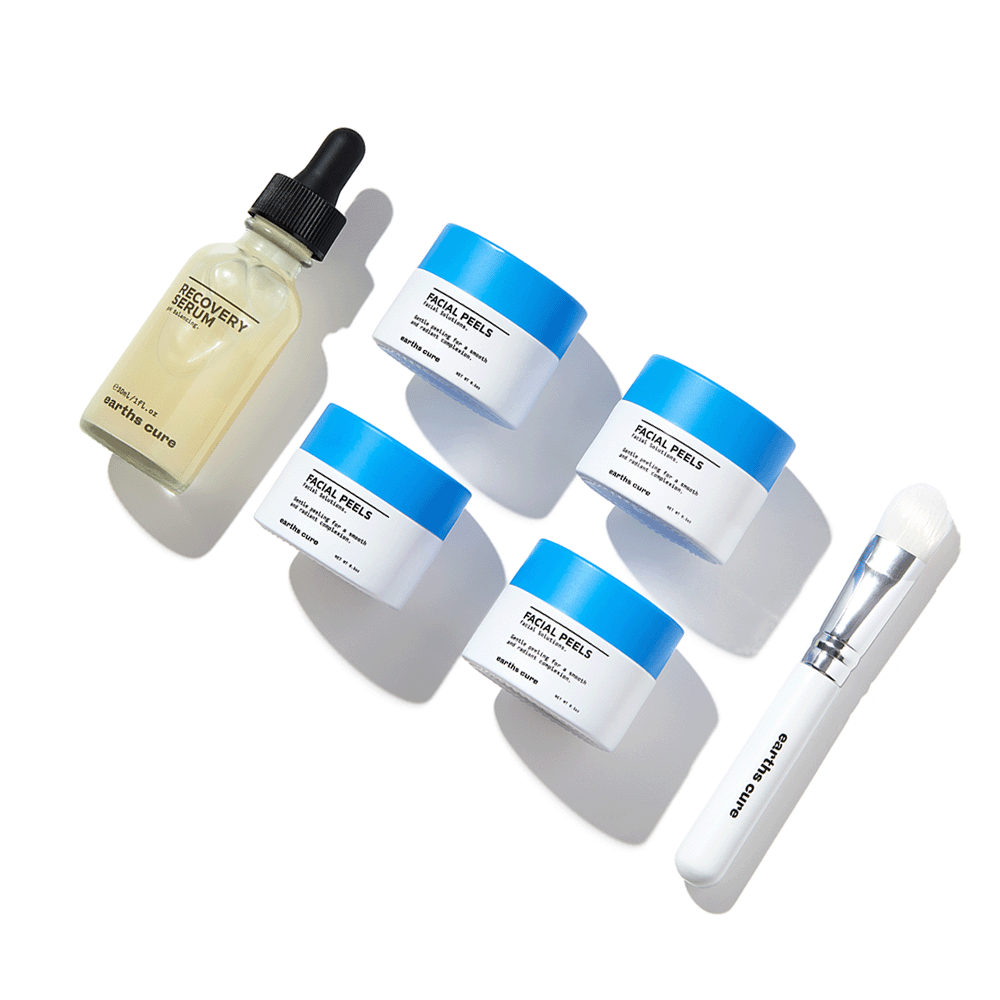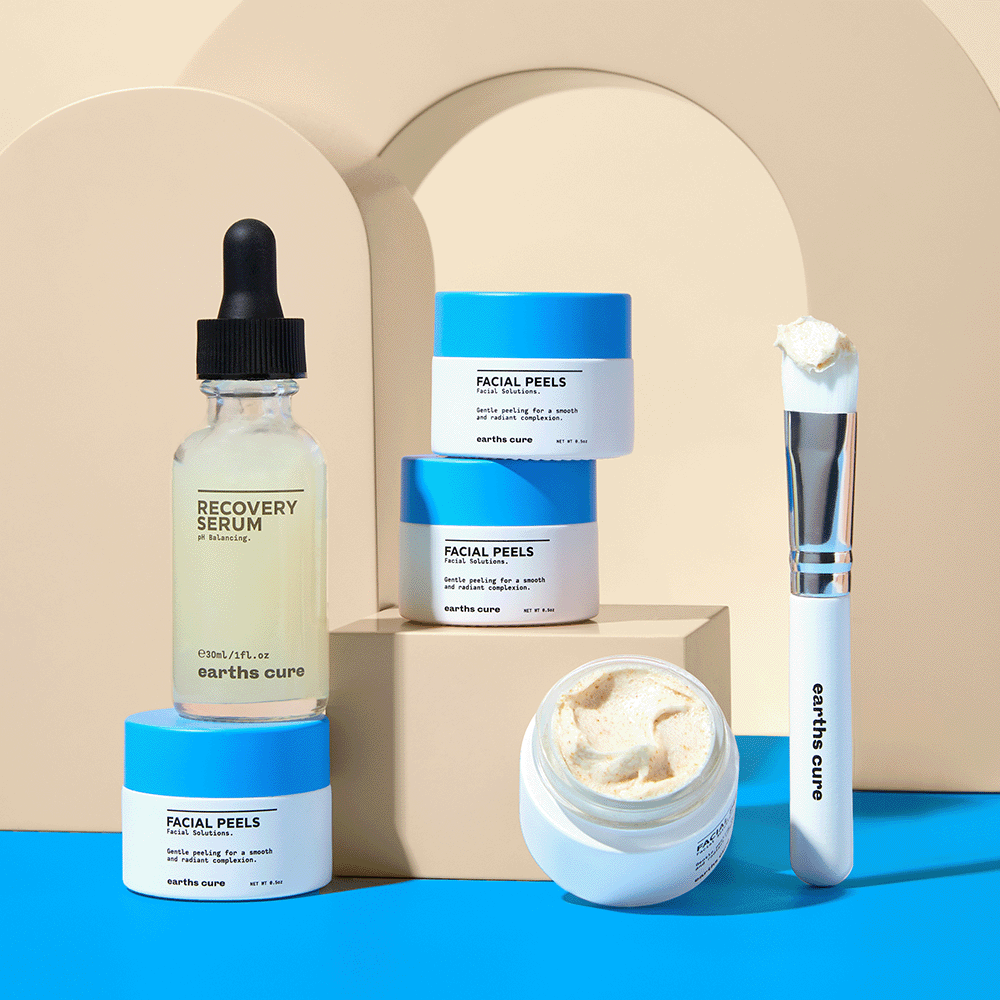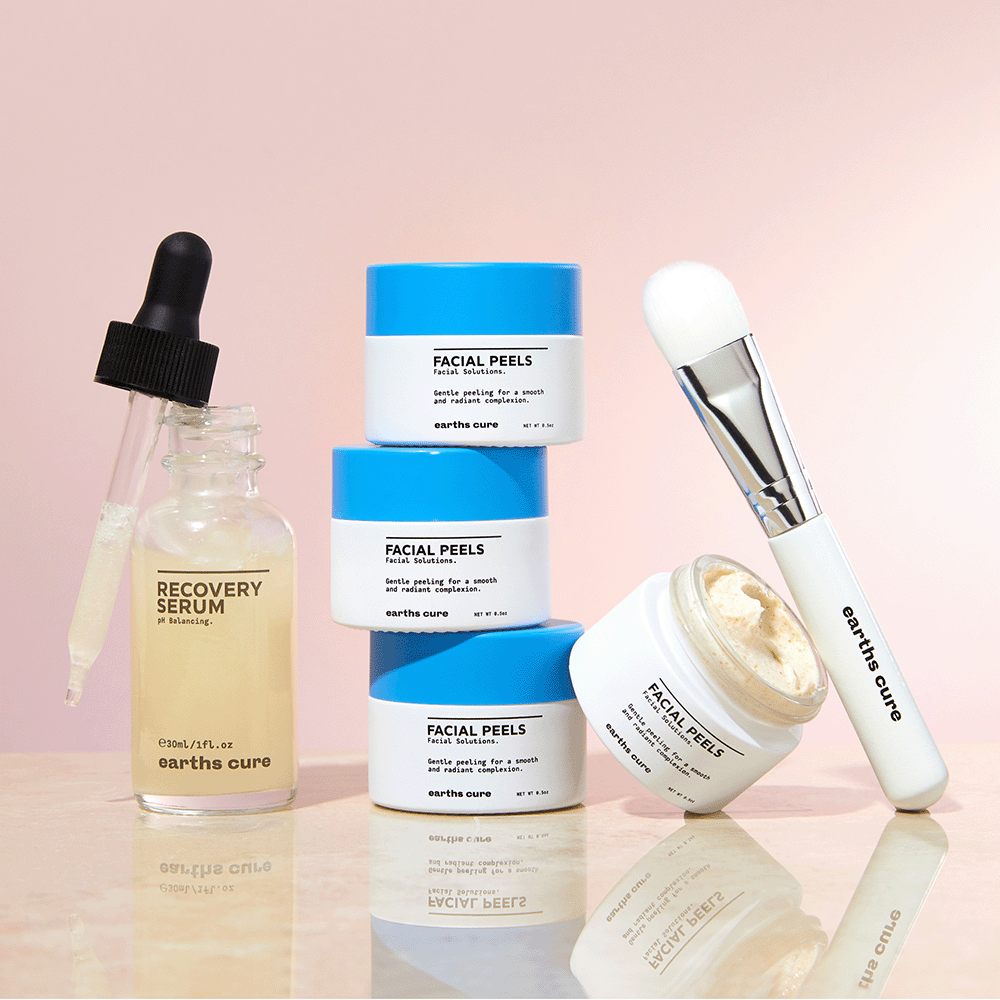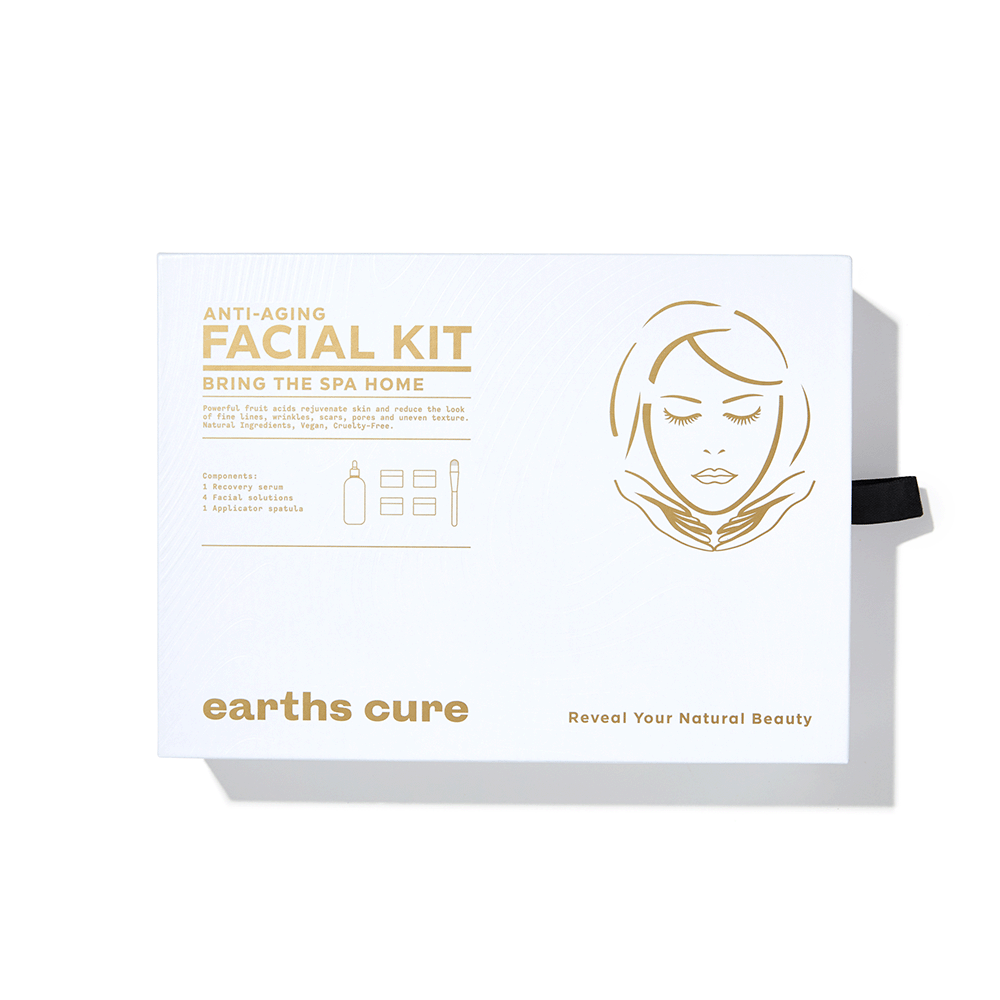 Featured Testimonials
Gentle but Powerful

"I've spent so much money on skincare products that did not work. This lived up to the promise. Better complexion and targeted those trouble spots on my cheeks and around my eyes."

- Ashlee Gendel

Pores are Clean

"I bought this set and it is just amazing! It came with 4 facials which will will last 2 months. After 1 application I noticed the pores on my nose were clean and my entire face glows."

- Delara Watters

Skin is So Smooth

"Never felt so confident in my own skin. Reduced appearance of wrinkles. I feel a decade younger. Even my husband uses it."

- Kate Carter
The Results Are in...
In an independent testing panel of 85 women ages 27 to 75, women were happy with a more vibrant look, improved clarity, skin texture, tone, and overall felt healthier about their skin.
How It Works
Our proprietary formula gently removes the dull, tired layer of your skin.
This reveals fresher, smoother, and healthier skin underneath.
The result is a visible reduction in wrinkles, fine lines, sun damage, and uneven pigmentation, giving you a more youthful and rejuvenated look.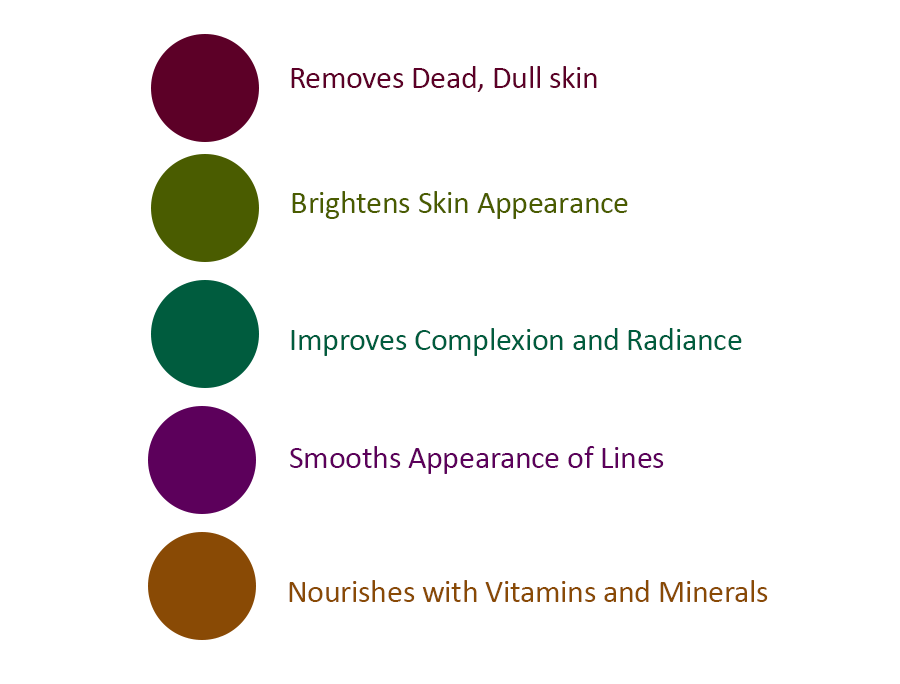 All-In-One Benefits
EarthsCure facial contains 5 unique ingredients in one gentle formula. It's designed to improve overall skin health, appearance, and complexion - without the downtime of traditional spas.
Instructions
STEP 1 - APPLY

Apply the facial solution to the face, neck and chest (avoid area around the eyes).

STEP 2 - WAIT

Wait 3 minutes while the facial removes impurities and reinvigorates skin.

STEP 3 - RECOVER

Wash thoroughly then apply the recovery serum.
100% Money Back Guarantee
You have 90 days to try EarthsCure and see the results for yourself. If you are not 100% satisfied — if you don't see visible results — simply contact us and we will gladly refund your money. No questions asked.
Frequently Asked Questions
What is it?

Natural fruit acids and enzymes gently dissolves the dull, dead skin on the surface and removes impurities. The result is a smoother, firmer, brighter appearance.
Who's it for?

This professional-level facial is gentle for ages 30+ and all skin types.

Works best for:

- Congested skin
- Dull skin
- Aging skin
- Fine Lines
- Hyperpigmentation
- Uneven texture
- Uneven tone

Tip: Beginners should apply the facial for 2-3 minutes while advanced users can use it for up to 15 minutes.
When will I see results?

Most users will notice results immediately after the facial. This means clearer skin, unclogged pores, and an overall softer, smoother, brighter and even appearance.

Tip: Please allow up to 72 hours for full results. We suggest using all 4 facials in the kit to achieve maximum results.
How often do I use it?

We suggest waiting 2 weeks before using another peel. Full results are seen after using 3-4 peels.

Tip: Each set contains 4 facials, 1 recovery serrum, and 1 applicator brush. This lasts 2 months!
Recovery time?

You may experience redness for up 2 hours after application. This is normal and means the facial worked.

We suggest allowing your skin at least 24 hours to heal.

Full results are seen after 48 hours.

Tip: Be sure to apply sunscreen. Skin may be more sensitive to sun exposure.
How does it work?

The formula contains natural ingredients known for transforming and nourishing skin.


When applied, the facial quickly goes to work. First, it dissolves the dead, dull skin on the surface and removes impurities. Second, it gently stimulates collagen and elastin production. Third, it nourishes with vitamins and anti-oxidants.

The result is a smooth, soft and supple look - while maintaining the integrity of your skin.
What are the directions?

The facial is designed with sensitive skin in mind. We suggest always starting slow - don't leave the formula on the face for too long.

DIRECTIONS:

1. Apply facial solution evenly to face, neck, and décolletage with applicator brush. Avoid the area directly surrounding eyes. Avoid direct contact with eyes, eyelids, and lips.

2. Leave the facial on for 2-3 minutes.* Rinse thoroughly with water.

3. Apply recovery serum.



TIPS:

1. Always start slow.

This is a professional-level facial. Beginners or those with sensitive skin should leave on for 2 to 3 minutes. Only advanced users can leave on for 5 to 15 minutes (depending on desired strength).

2. Be patient

You may see improvements in skin appearance, including clearer and smoother skin. For maximum results, repeat the facial every 2 weeks.
What are the risks?

This facial is safe enough for sensitive skin. Redness and some sensitivity may occur within the first 2 hours after application. This is normal and an indication the facial worked.

Do not apply the facial for over 3 minutes. Always start small and work your way up! Advanced users can leave the facial on for 5-15 minutes, depending on desired strength.

Tip: We suggest spot testing a small area of skin. The formula is safe and gentle, but always take caution when using any new skincare product.
Post-care treatment?

After your facial,

- Apply SPF 30+ for seven days. Apply a moisturizer.

- Wait at least 2 weeks before repeating your facial.

- Avoid laser, microdermabrasion and other treatments for at least 2 weeks.

- Avoid retinol products for at least 72 hours.
What is the return policy?

We offer a 90 day money back guarantee.

If you are not satisified with the results, simply call (800) 674-3571 or email help@earthscure.com for a refund.
Best Overall 🙌
I have been using this product for almost a year now and LOVING IT. I've used many quality products over the years but this one is my fave. No need to apply lots of it to get results. My face feels clean and supple. I'm amazed with this product, no fancy packaging, just fabulous results. I've asked my husband to get me the all-in-one facial set for Christmas. Oh let's not forget how I also love the exfoliating scrub and serum.
I am 68 yrs old and so happy with this product, can't say enough great things. Most definitely a 5 Star ⭐️
Nice
I really wanted to love this mask. While it's a nice treatment, it did fall short of my expectations. I did not get a rosy glow or really any kind of response, even after leaving it on for about 15 mins (and I do have sensitive skin). My skin did look and feel soft after removing the mask but have to say that it does take some extra effort using a wash cloth to rinse all of the product off. I like the clean ingredients but wish it had more of a "spa" smell, as I was sold on the "spa experience" which I automatically equate to partly smell. I look forward to using the additional 3 masks and hope to see some brightening results in several weeks.
Most effective face lotion ever
I love the day and night creams! My skin is is hydrated and soft. I plan on using these products for a very long time!
Love these products
I have been using these products for several years and love what they do for my sensitive skin.
Overall Good Products
I have used 5 different products over the years. They are all great quality, however, other products on the market are equally good and competitive in price. Improvements could be made by adding a customer loyalty program, and shortening the shipping time (which is quite long).